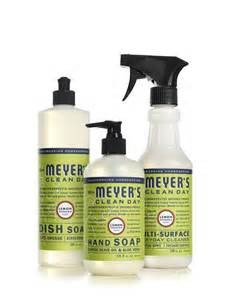 I recently tried Mrs. Meyers Clean Day Multi-Surface Everyday Cleaner in Iowa Pine scent.
The good:
The bottles are made with recycled plastic.
The cleaner contains no bleach or ammonia, is biodegradable, is safe to use around kids and pets, is not tested on animals, does not contain animal ingredients, and is leaping bunny certified.
The cleaner sells for about $3.99 a bottle, which makes it pretty competitively priced.
It works. I live in a multiple pet household, and my floors get really dirty. Really dirty. A lot of cleaners can't clean my floor on the first try. At best, after the first cleaning the floor will look clean but have a sort of wet dog smell. So I'll have to clean it a second time. Mrs Meyers Iowa Pine did a great job the first time. Clean floor, no wet dog smell. That's a huge achievement in my house.
The scent is strong. In a good way. The Mrs Meyers Iowa Pine scent also lingered in the room for hours after I cleaned yet was never overpowering, or chemically, or fake smelling. It was like the perfect cleaner mixed with the perfect air freshener!
The bad:
I have two complaints about Mrs Meyers Multi-Surface Cleaner in Iowa Pine. 1. It's a winter scent (mostly Christmas it seems), so it's not available all the time and 2. I liked it so much that I used up the whole bottle in a week, and now I'm all out and having trouble finding more now that it's after Christmas.
My verdict:
Considering that my only complaints about this cleaner basically boil down to the fact that I want more of it, I give it 5 stars!

Product Review: Mrs. Meyers Multi-Surface Cleaner (Iowa Pine)