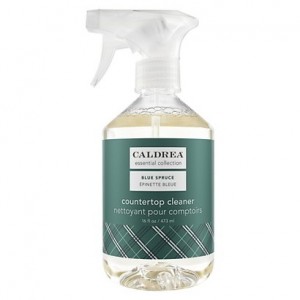 I recently tried Caldrea Blue Spruce countertop cleaner.
The good:
The bottles are recyclable and made with recycled plastic.
The cleaner is biodegradable, is not tested on animals, and does not contain bleach or ammonia.
It does a good job of cleaning my floors (yeah, I know it's a countertop cleaner, but my floors get really dirty, so every cleaner in my house becomes a floor cleaner) the first time (no wet dog smell like a lot of cleaners leave behind on my dirty multiple pet household's floors).
It has a nice smell that lingers for a few hours after cleaning. But that lingering after-smell smells less like spruce to me and more like a man's cologne. I liked it, but it may be a turnoff for some.
The bad:
It looks like this scent might be hard to find after Christmas.
These currently sell for $6 a bottle at Target or for $9 a bottle on Caldrea's website. Either way, ouch… You can get other green cleaners that are just as safe and just as effective and smell just as good (or better) for less than that.
My verdict:
Because of the price and the fact that I thought the smell that the cleaner left behind was not very spruce-y, I'm giving this 4 stars. If you find it marked down or get it as a gift and don't mind a masculine and not entirely spruce-y after-scent, awesome. Otherwise, I'd recommend Mrs Meyers Multi-Surface Cleaner in Iowa Pine scent if you can find it.

Product Review: Caldrea Countertop Cleaner (Blue Spruce)