I recently tried Gardein's chipotle black bean sliders and crispy chick'n sliders.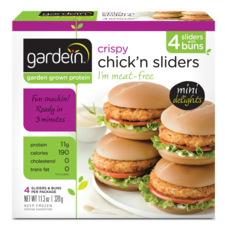 The good:
I love the fact that they're vegan, that they're in a lot of stores, and that they're quick and easy to prepare (I made mine in the microwave, which takes about a minute and a half total, but the recommended cooking method for the chick'n sliders is an oven or toaster oven and takes about 15 minutes). The chick'n sliders also smelled amazing, even to my omni SO.
The ok:
I thought the taste was just ok. I thought the chick'n sliders were tastier. They were pretty bland, but that could easily be fixed by adding some toppings.
The bad:
The sliders have a lot of sodium for something so small. 17% per black bean burger and 14% per chick'n burger. And I don't know what other stores sell them for, but I paid almost $5 per box, with 4 sliders per box.
My verdict:
These aren't bad, but they're not the tastiest vegan burgers that I've ever had. And the price doesn't really seem worth it to me. For that price I can get a box of my favorite full sized vegan burgers and a bag of buns and have some buns left over. It's not like it's that difficult to stick a patty on a bun, so these sliders aren't even a convenience food (especially since you have to take the sliders apart to cook the patties without the bun for roughly the first half of the cooking time). So they left me wondering what the point is. I'm giving them three stars for basically being just ok.

Product Review: Gardein Chipotle Black Bean Sliders and Crispy Chick'n Sliders