I just tried Sophie's Kitchen vegan crab cakes for the first time.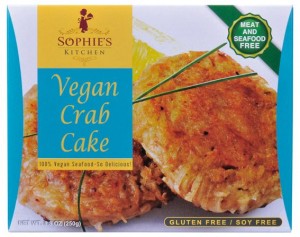 The directions said you could bake them at 375 for about 15 minutes. I baked them on a cookie sheet with parchment paper. After 15 minutes, they didn't look done to me (although I admit to not letting the oven preheat). They looked sort of gray and gooey. So I cooked them for another 15 minutes. Then they looked a bit golden and more firm.
My omni SO and I both tried it. Neither of us had ever had a crab cake before, vegan or not. So we didn't have anything to compare it to and were just taking it for what it was.
When he broke off a piece and ate it, he said, "Ew, you can have mine." Then after about 30 seconds he said, "I changed my mind, I want mine," and proceeded to scarf the whole thing. While we had never had crab cakes before, he said he thought the flavor tasted more like clams than crab, which was fine with him.
I usually eat pretty bland food, so I found the flavor good but a bit strong. That was a good thing in my opinion because it meant I could stick it on a toasted bun to give it a little more crunch and make it more filling. Next time I think I will bake it in a cast iron skillet and eat it on a toasted bun with some toppings.
At $6 for a box of four cakes, they are a bit pricey. But since the flavor is so strong and versatile, you could easily pair it with pasta or stick it in a bun (like I did) to make it more filling and stretch further. And it's not like vegan seafood is easy to find! Also, there is a $1 off coupon on their website.
You can also feel good about the fact that Sophie's Kitchen donates 5% of their profits to help preserve ocean species and habitats. They're also Non-GMO Project certified.
We recommend Sophie's Kitchen vegan crab cakes and give them a green thumbs up.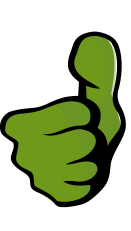 Product Review: Sophie's Kitchen Vegan Crab Cakes